THE SPARK CAST
Welcome to our Podcast page.

INFO
To enquire about advertising opportunity, propose a story idea or have a general question, please contact our Communications Team.
2023
2022
2021

7 July, 2021 · Podcast
by Marina Antunes, Spark CG Society
S03E02: Marv Newland — Accidental Legend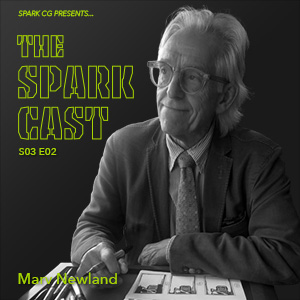 Marv Newland didn't plan to be an animator but after a career that spans over half a century, more than twenty films, and some of the industry's most notable prizes, it's safe to say that he's done alright for himself. Especially when one considers that the film that launched his animation career almost didn't happen.
From his first project Bambi Meets Godzilla, to last year's Katalog of Flaws, Marv's films blend his style, sensibility, and sense of humour, in a unique and instantly recognizable package.
We recently spoke with Marv about creativity, developing your style, and what keeps him inspired to continue making films.
Episode Links

23 June, 2021 · Podcast
by Marina Antunes, Spark CG Society
S03E01: Michelle Grady — Determined Journey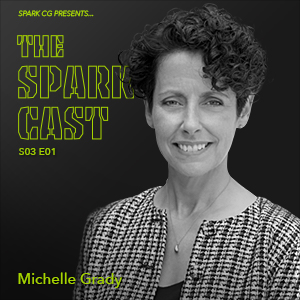 Michelle Grady's career in the CG industry started small: an unpaid job working in the equipment room of a post-production facility. Determined and in need of a paying job, she soon found herself as the receptionist.
Michelle has come a long way since that first receptionist job, all the way to Executive Vice-President and General Manager of Sony Pictures Imageworks, and her career has grown alongside Vancouver's expanding production business.
We recently spoke with Michelle about her humble beginnings, the challenges of leadership, making mistakes, and how taking chances has shaped her career.
Episode Links

10 June, 2021 · Podcast
by Marina Antunes, Spark CG Society
S02E10: Tibo Charroppin — Spare-Time VFX Wiz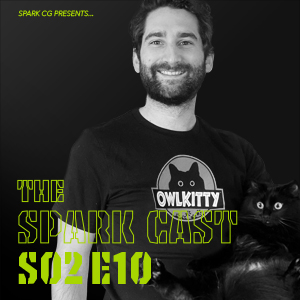 In his dayjob, Tibo Charroppin is a director and video editor for the ACLU, but in his spare time, he's a visual effects wiz who, with the help and support of his partner Olivia Boone, edits their beloved cat Lizzy into famous movie scenes.
With a passion for problem solving and learning, and maybe out of a little bit of boredom, Tibo posted the first video with Lizzy on Reddit. Eventually, that little video turned into OwlKitty, an Instagram and YouTube sensation that brings joy, laughter and technical marvel with each short clip.
We spoke with Tibo about how OwlKitty came to be, his process for creating movie magic, and his white whale.
Table of Content
00:00 — Welcome
00:41 — Introduction
01:37 — 1918
04:20 — Digital Artist
12:26 — ACLU
14:12 — OwlKitty is Born
22:24 — Monetization Considerations
24:52 — Planning a Video
29:08 — Filming Patience
33:12 — Post Production
37:20 — White Whale
39:46 — Hobby vs. Work
42:14 — Problem Solving Approaches
46:04 — Making People Smile

Episode Links

12 May, 2021 · Podcast
by Marina Antunes, Spark CG Society
S02E08: Ann Marie Fleming — Compelled to Share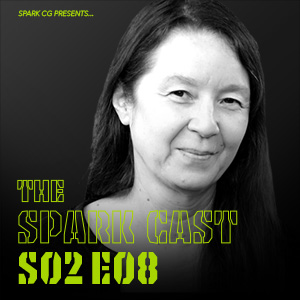 Ann Marie Fleming is a prolific filmmaker, visual artist, and storyteller who has spent the bulk of her career exploring themes of history, family, and memory — both her own and others'.
Be it her powerful short film You Take Care Now, which explores the trauma she experienced as a young woman, or The Magical Life of Long Tack Sam which explores the life of her great grandfather, or the adventures of Stickgirl, Ann Marie has long shared personal stories with the world.
We recently spoke with the artist about inspiration, creativity and why she continues to tell and explore deeply personal stories in her art.
Table of Content
00:00 — Welcome
00:32 — Introduction
01:22 — Adjusting to a New Culture
07:08 — Entranced by Animation
11:26 — You Take Care Now
22:26 — New Shoes
28:07 — Sources of Inspiration
30:57 — Stickgirl
36:57 — Compulsion to Share
40:58 — Sources of Motivation
47:18 — Advice to my Younger Self

Episode Links

28 April, 2021 · Podcast
by Marina Antunes, Spark CG Society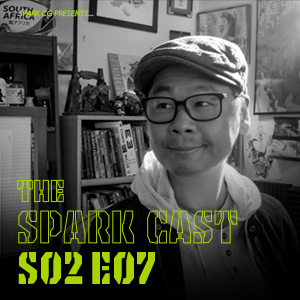 Denver Jackson has always wanted to be a storyteller. In 2012, he began his journey by creating a 9-minute short film titled Cloudrise. Nine years later, Cloudrise is an independent studio, and Denver has made three short films, a webseries, and now an upcoming feature film titled Esluna: The Crown of Babylon.
We recently spoke with Denver about his creative process, working as a solo animator, and how he overcame the challenges of making a feature film on his own.
Table of Content
00:00 - Welcome
00:30 - Introduction
01:12 - Learning by Doing
08:59 - Visual & Storytelling Style
20:53 - One-Person Ensemble
30:20 - Getting the Job Done
41:30 - Upcoming Projects

Episode Links

21 April, 2021 · Podcast
by Marina Antunes, Spark CG Society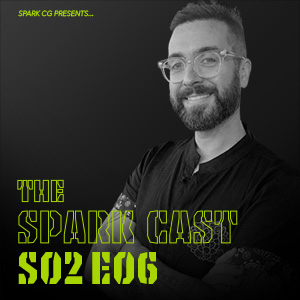 One might assume that as a three-time Oscar nominee and one of the co-founders of the celebrated Cartoon Saloon, Tomm Moore might be an aloof figure. Instead, he's warm and fatherly with a rebel streak and a spirit that bucks popular trends.
It's this outsider spirit and willingness to follow their hearts that has put Cartoon Saloon on the map, and though it hasn't always been easy, the studio has flourished into a collaborative enterprise that feels more like a family than a studio.
We recently caught up with Tomm to talk about the early days of the studio, his passion for history, his compulsive need to draw and his next project.
Table of Content
00:00 - Welcome
00:26 - Introduction
01:10 - Compulsive Drawing
08:12 - Cartoon Saloon
13:19 - The Rich Folklore Well
16:32 - Cultivating Studio Culture
24:59 - Developing Concepts
32:31 - Connected to Nature
38:40 - Next Generation Animators

Episode Links

24 March, 2021 · Podcast
by Marina Antunes, Spark CG Society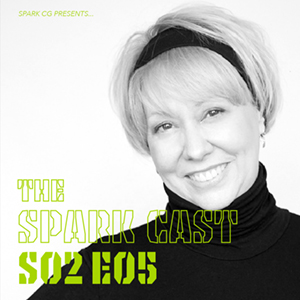 Mindy Johnson is an award-winning author, historian, educator, and filmmaker. She is a leading expert in women's roles in animation and film history. Her work in the field has garnered her a number of prestigious awards, including the 2020 ASIFA-Hollywood Animation Educators Forum Faculty Grant and the 2019 Academy Film Scholar Award. But, did you know that Mindy is also a Grammy-nominated musician?
We recently caught up with Mindy to discuss her varied interests, multiple careers, and how a passion for life-long learning has made her a leading and essential voice in the study of women's roles in Hollywood history.
Table of Content
00:00 - Welcome
00:28 - Introduction
01:11 — From Minnesota to Neverland
20:31 — Familiar Waters
27:50 — Teaching and Learning
37:46 — Tinker Bell
40:12 — Ink & Paint
47:38 — Pencils, Pens & Brushes
51:54 — Current Projects
54:26 — Getting Women's History Right

Episode Links

24 February, 2021 · Podcast
by Marina Antunes, Spark CG Society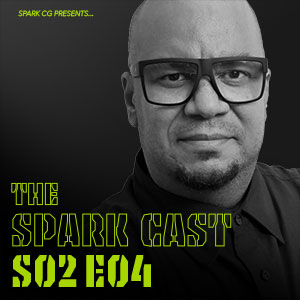 If you attended a Spark festival in years past, chances are that you've seen DaCosta Bayley's work. A self-taught, award-winning illustrator, DaCosta has been creating professionally since 1995. Working under the studio name CHOCOLATE SOOP®, DaCosta has produced designs across various media, has launched the popular "MARCH of ROBOTS" drawing challenge on Instagram, collaborated with artists around the world, and has worked with major brands like Nintendo, Sony, Hasbro, Wacom, and Google.
We recently caught up with DaCosta to talk about how he broke into the industry, how his passion for robots developed, and what he's working on now.
Episode Links

10 February, 2021 · Podcast
by Marina Antunes, Spark CG Society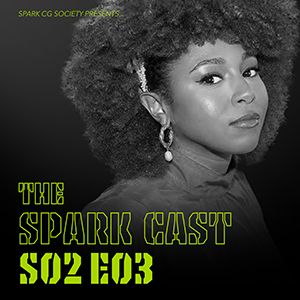 A number of years ago, Taylor K. Shaw was looking to staff her project with black animators, people who looked like the characters that she was creating, but the task proved to be more difficult than she anticipated. Eventually, she did find one black female animator, but the search led her to think that there had to be a better way to find these creative individuals, and to create a space for black women to collaborate, inspire each other, and raise each other up. What started as the Black Girl Animators Collective led to Black Women Animate, a mission-driven animation studio that is changing the landscape and pushing boundaries in the animation industry.
We recently caught up with Taylor to discuss the catalyst of how BWA came to be, the accomplishments and challenges of the studio's first four years, and what's next for both the studio and Taylor.

27 January, 2021 · Podcast
by Marina Antunes, Spark CG Society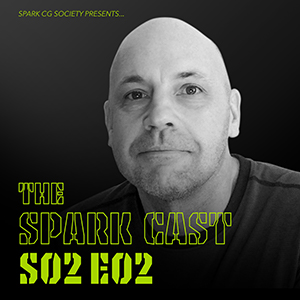 Joseph Hodges' first passion was flight, but after a failed attempt at the pilot's exam, he opted for his second passion: architecture. His designs were always seen as too big and ambitious for real buildings, but when Joseph found himself working on the set of Hook, his passion for design found an outlet, and over his career he has worked on everything from period dramas, and sci-fi, to contemporary dramas.
We recently caught up with Joseph to talk about his experiences working on Hook, his long run on 24, and how he's staying creative outside of the Hollywood system.
Episode Links

13 January, 2021 · Podcast
by Marina Antunes, Spark CG Society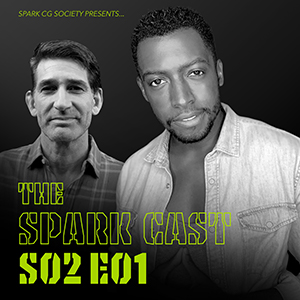 How do a Broadway star and a VFX executive come together to create an animated short film? The story behind how Cops and Robbers, a new short film from Timothy Ware-Hill and Arnon Manor, came to be, is inspiring and speaks to the power of Ware-Hill's writing, performance and conviction.
We recently spoke with Ware-Hill and Manor about the inspiration for the film, the challenges of working with over 30 artists to create a six-minute project, and how answering an Instagram DM started the ball rolling on the project.
Episode Links
2020

9 December, 2020 · Podcast
by Marina Antunes, Spark CG Society
Jennifer Twiner McCarron has always known that she wanted to create safe spaces for artists and creators to create, innovate and excel, and in her tenure at the helm of Thunderbird Entertainment, she has done just that, growing Atomic Cartoons from 25 to more than 450 artists, and leading the company into a new era of award-winning original works and content.
We spoke with Jennifer about discovering her passion at an early age, taking the big leap into the role of CEO, and her leadership during a pandemic.

25 November, 2020 · Podcast
by Marina Antunes, Spark CG Society
Alison Snowden and David Fine have spent over 30 years together as both creative and life partners. The pair have numerous awards under their belts, including an Oscar and three other Oscar nominations. They have also created TV series, including Bob and Margaret and the kids series, Ricky Sprocket and worked on such iconic properties as Shaun the Sheep and Peppa Pig (their daughter was also the original voice of Peppa!)
We had a chance to speak to the creators about sharing work and home life, their creative process and who is better at staying on task.

6 November, 2020 · Podcast
by Marina Antunes, Spark CG Society
In 2010, Cinzia Angelini had an idea for a short film and Mila was born. For many years, the project was a volunteer-based passion project featuring 350 artists spread out over 35 countries. The journey has landed the film and Cinzia at Cinesite where work on the film is nearing completion. We had a chance to speak with Cinzia about her career, her passion project, and how she stayed motivated through the film's 10-year production schedule.

20 October, 2020 · Podcast
by Marina Antunes, Spark CG Society
In part two of our conversation, Nilo talks candidly about that time he quit the business. We take a deep-dive into Johnny Mnemonic, his career shift into video games, and how he stays creative, motivated, and inspired.

1 October, 2020 · Podcast
by Marina Antunes, Spark CG Society
Nilo Rodis' career spans such iconic franchises as Star Wars, Raiders and Star Trek. In fact, his career is so epic, we couldn't fit it all in onto one episode!
In part one of our exclusive conversation, Rodis discusses his early career working in Detroit's once-booming car industry, how he came to work with George Lucas, and his unlikely friendship and colaboration with John Hughes.

30 August, 2020 · Podcast
by Marina Antunes, Spark CG Society
Simon Barry was a screenwriter working in LA, when he returned to Vancouver and made the switch to TV, helming the barrier-breaking series Continuum. Since then, he has been at the helm of a number of cult-favourite shows including Van Helsing, Ghost Wars and his latest, Warrior Nun which is now streaming on Netflix.
We spoke with Simon about the early days of his career, his passion for genre storytelling and how Warrior Nun came to be.

16 August, 2020 · Podcast
by Marina Antunes, Spark CG Society
In 2004, Sean O'Reilly achieved one of his life-long goals and self-published his first comic book under the banner of Arcana Comics. Kade didn't only do well, it made a profit and 16 years later Sean is still at it, leading Canada's largest comic book publisher with over 350 titles, as well as an animation studio which produces television series and films based on the studio's IP.
We spoke with Sean about his passion for comics, his creative process and how his love for technology has driven much of Arcana's growth over the years.

2 August, 2020 · Podcast
by Marina Antunes, Spark CG Society
Gordon Durity has been working in the music industry for decades, and though you may not recognize his name, if you've played a video game over the last 20 years, you have probably heard some of his work. As Executive Audio Director at Electronic Arts Canada, Gordon has led the audio production for hundreds of titles.
We spoke with Gordon about his career trajectory, the process of creating music and sound for a video game and the future of video game music.

19 July, 2020 · Podcast
by Marina Antunes, Spark CG Society
Brenda Gilbert is the Co-Founder and President of BRON Media Corporation. She's also a producer, a mother and a woman of colour. How did this small business, founded with her husband Aaron, grow into the multi-faceted company with 60+ productions, offices in 5 cities and numerous awards under their belt?
We speak with Brenda about the early days, navigating being an entrepreneur with young children, and finding the balance between busy work and home schedule.

5 July, 2020 · Podcast
by Marina Antunes, Spark CG Society
From Star Trek: Enterprise and Star Wars: Clone Wars, to Cannes Lions-winning global campaigns for Mercedes-Benz, Apple, Canon, Honda, and Sony, BAFTA-nominated composer Takeshi Furukawa's music has accompanied some of the world's most recognized images on screen. His work on the highly acclaimed PlayStation title The Last Guardian has established him as one of the most exciting new voices in the video game industry garnering a Premio Drago d'Oro, an IGN Award, and a GANG Award, as well as nominations at the BAFTA Games Awards, D.I.C.E. Awards, SXSW Gaming Awards, and the International Film Music Critics Association Awards among others.
Takeshi recently scored the first season of the Ubisoft and Lionsgate series Mythic Quest: Raven's Banquet now streaming on Apple TV+.
We had a chance to speak with Takeshi about his process, staying creative, and overcoming the challenges of working in a variety of different visual mediums.


Feed

© 2023 · Spark CG Society · All Rights Reserved